Virtuální prohlídka produktu
UNIPETROL 753 718
New modified roof shape as type 753.7!
Diesel-electric locomotive series 753.7 is rebuilded old type 753 with CAT motor and new control system to improve its economy. Used by many private operators. The model is equiped by the motor with one massive balance wheel, the reconnectable lighting (according to the way) and the separately switchable headlight (only in digital). The locomotive has also the loudspeaker, preparation on the controlled coupling and divice Plux16. You can find more informations about DCC function in the preparation.

The pattern of the model series 753 (ex. T478.3) was produced in the factory ČKD Praha in count ca. 400 pieces. Later the series 754 followed with visual difference (other shape of the fuel tank etc.). The locomotives are used universaly for personál and cargo trains.


Some accessories are enclosed in the package (couplings, windscreen wipers, hosepipes, hooks, bitten schedule, banding two-wheeled).
Lenght
137 mm
Weight
205 g
Min. radius arch
250 mm
Lighting
white/red
Digital
no /conector Plux16 /occupy by loudspeaker
Sound
no
Count driving axles
4
Count banding axles
occupy 0 – in the package with accessories (one piece)
Coupling
gutter according to NEM (standardy KKK coupling)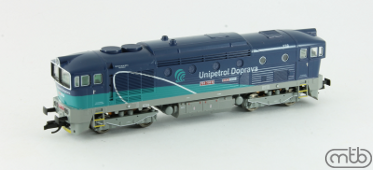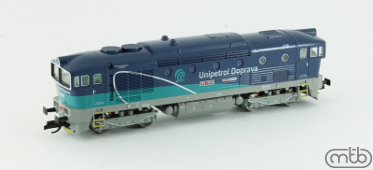 3D

Not suitable for children under 14 years.